Product Display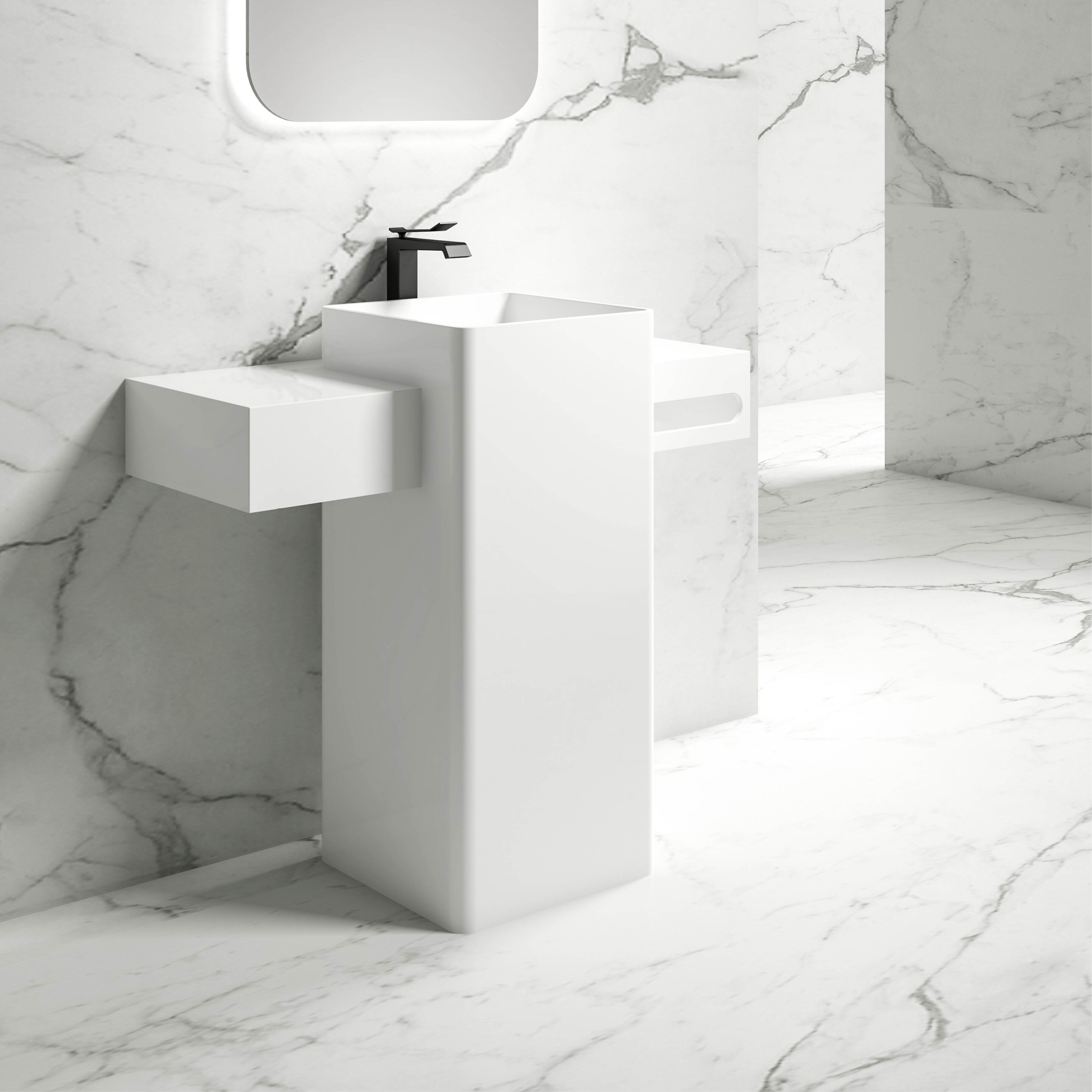 Product Description
This man-made stone seamless splicing modern design bathroom sink, no radiation and pollution, is a good object in your bathroom. Easy to install, stable and durable. Granite sink will not rust and corrosion, and can be used for a long time. It can help you replenish condensed water and moisture, and turn your bathroom into a quiet oasis. Seamless splicing non radiation and pollution-free artificial stone modern design bathroom wash basin is the perfect choice for your bathroom. The beauty of this sink is simply amazing. It will add grade to your home. Seamless artificial stone modern design bathroom wash basin adopts high-quality artificial marble, which is durable and easy to clean. Seamless splicing design can meet your space saving needs, especially in a small space. You can choose it as the basin of your small bathroom.
2)This stone wash basin is a perfect complement to the bathroom, integrating beauty and practicality. Neutral colors help to maintain the modern appearance of the bathroom while fitting all styles and tastes. Elegant modern design, very suitable for any modern environment. It is made of high-quality materials, can withstand strict daily use, and has a durable structure, which can ensure that it will remain strong for many years in the future without clogging or leakage.
2) Characteristics
This fashionable artificial stone seamless splicing modern design bathroom sink is free of radiation and pollution, and is the perfect choice for your bathroom, kitchen, laundry and utility room. The basin is made of high-quality ABS plastic and epoxy powder coating, which is strong and durable. This toilet is made of artificial stone and is an ideal decoration for your family. Smooth surface, waterproof and safe, stable performance and durable. You can use it as a washbasin or an ornament.
3) Easy to clean
This modern sink is made in China and made of artificial stone. This beautiful sink has a country style and is perfect for any bathroom decoration. A smooth surface is easy to clean. By using this modern sink on your bathroom countertop, you will have a unique focus in the bathroom renovation or renovation.
4) This super high-end bathroom sink uses high-quality imported artificial stone. Light and smooth texture, no pollution and no radiation. The unique design makes it look more fashionable and elegant, and the interior of the bathroom will shine. Suitable for any modern decoration style, giving you a relaxed feeling!
ABOUT JIASHENG
JiaSheng is a well regarded and experienced import &export company headquartered in Foshan, China.
We have been established since 2009 and is also a member of the Foshan Chamber of Commerce for Importers and Exporters Council.
We are staffed with a team of professional buyers & QA personnel with extensive experience in product sourcing, import and export service and technical knowledge in quality inspection.
Through our vast network of suppliers across the China market, we provide our clients with a wide choice of premium value and high quality products to meet their requirements.