Product Display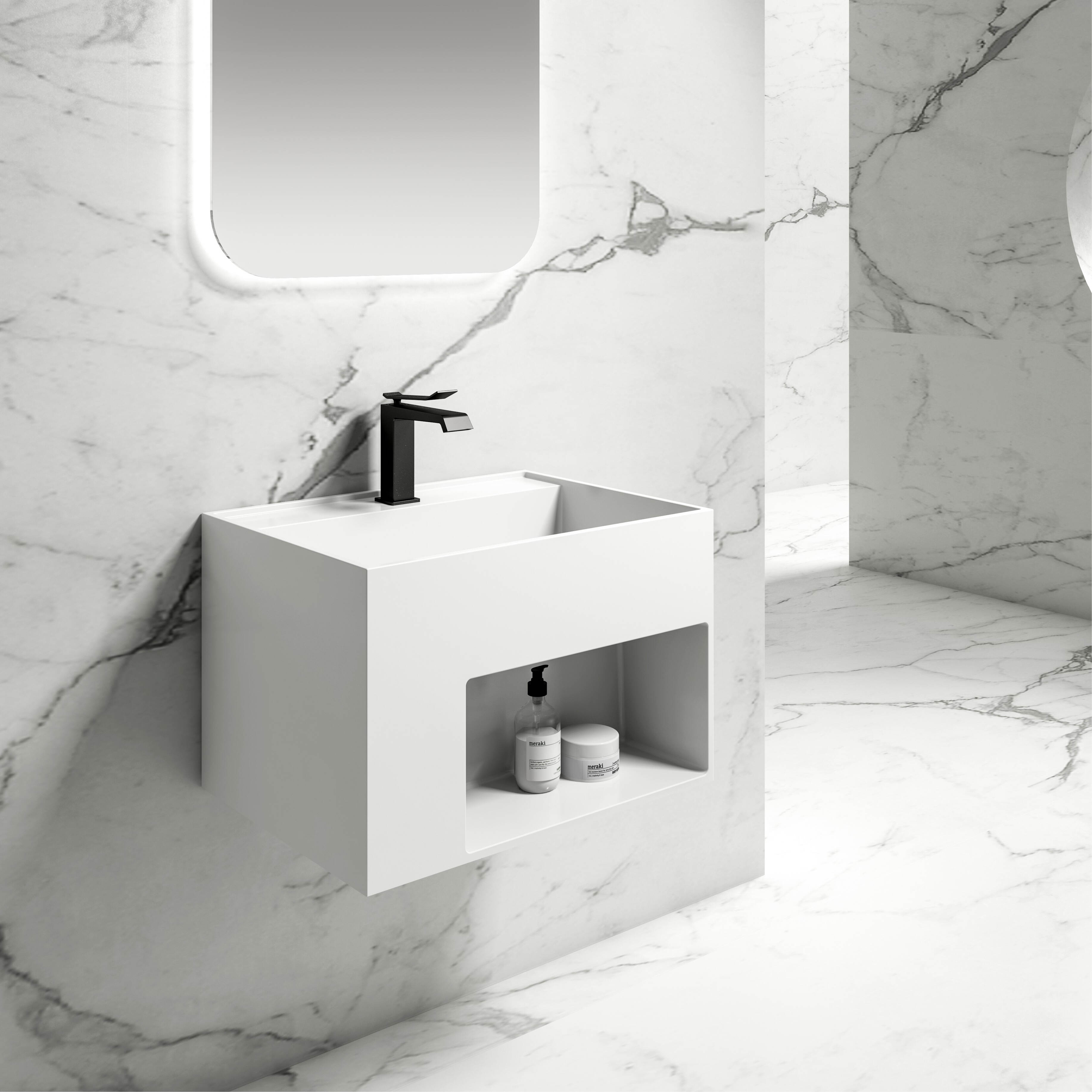 Product Description
The modern Italian acrylic solid surface integrated wash basin is a perfect complement to your bathroom. The wash basin adopts high-quality acrylic solid surface and is equipped with an integrated mixing faucet. There are many amazing colors to choose from to complement your existing decorations.
1) Characteristics
Modern Italian acrylic solid surface integrated washbasin unit is the latest and most advanced acrylic solid surface integrated washbasin series. This modern bathroom sink is made of high-quality ABS plastic and non porous material, which can resist bacterial pollution and stains, and is easy to clean. It requires little maintenance and can be easily installed on the table or directly against the wall! This modern sink comes in a variety of colors and sizes and is suitable for any modern interior decoration.
2) Design
This modern design Italian acrylic solid surface integral basin unit is a beautiful complement to any bathroom. Due to its fashionable design, it will seamlessly integrate with your existing decorations and provide you with an organized place to wash your hands and brush your teeth. This sink has a solid structure, scratch resistant surface and is durable. The modern Italian acrylic solid surface integral basin unit is the perfect unit for use in the bathroom. It can be placed in any corner because it fits perfectly and integrates with the existing decoration of your bathroom. It has an elegant design, which makes it look very beautiful. The equipment is equipped with two side drawers to provide sufficient space for your accessories and cosmetics.
3) The double door centralized bathroom cabinet and drawer of this washbasin are integrated with storage and slim design, providing enough space for all your bathroom necessities. The table top is made of acrylic solid surface, which can resist stains and scratches. The modern design allows the device to be integrated into any bathroom while adding a little elegance.
4) Apply a variety of scenarios.
This rugged surface sink unit is ideal for any modern sink or bathroom. It provides a versatile design, simple geometry and fashionable design. This sturdy surface drain is ideal for residential or commercial use and can be used in multi-functional areas of modern bathrooms or kitchens. Modern design, modern appearance and modern life. The integrated wash basin unit is a stylish and elegant complement to any bathroom. It is made of a solid surface and equipped with a comprehensive storage solution to provide sufficient space for all your bathroom necessities.
ABOUT JIASHENG
JiaSheng is a well regarded and experienced import &export company headquartered in Foshan, China.
We have been established since 2009 and is also a member of the Foshan Chamber of Commerce for Importers and Exporters Council.
We are staffed with a team of professional buyers & QA personnel with extensive experience in product sourcing, import and export service and technical knowledge in quality inspection.
Through our vast network of suppliers across the China market, we provide our clients with a wide choice of premium value and high quality products to meet their requirements.