Product Display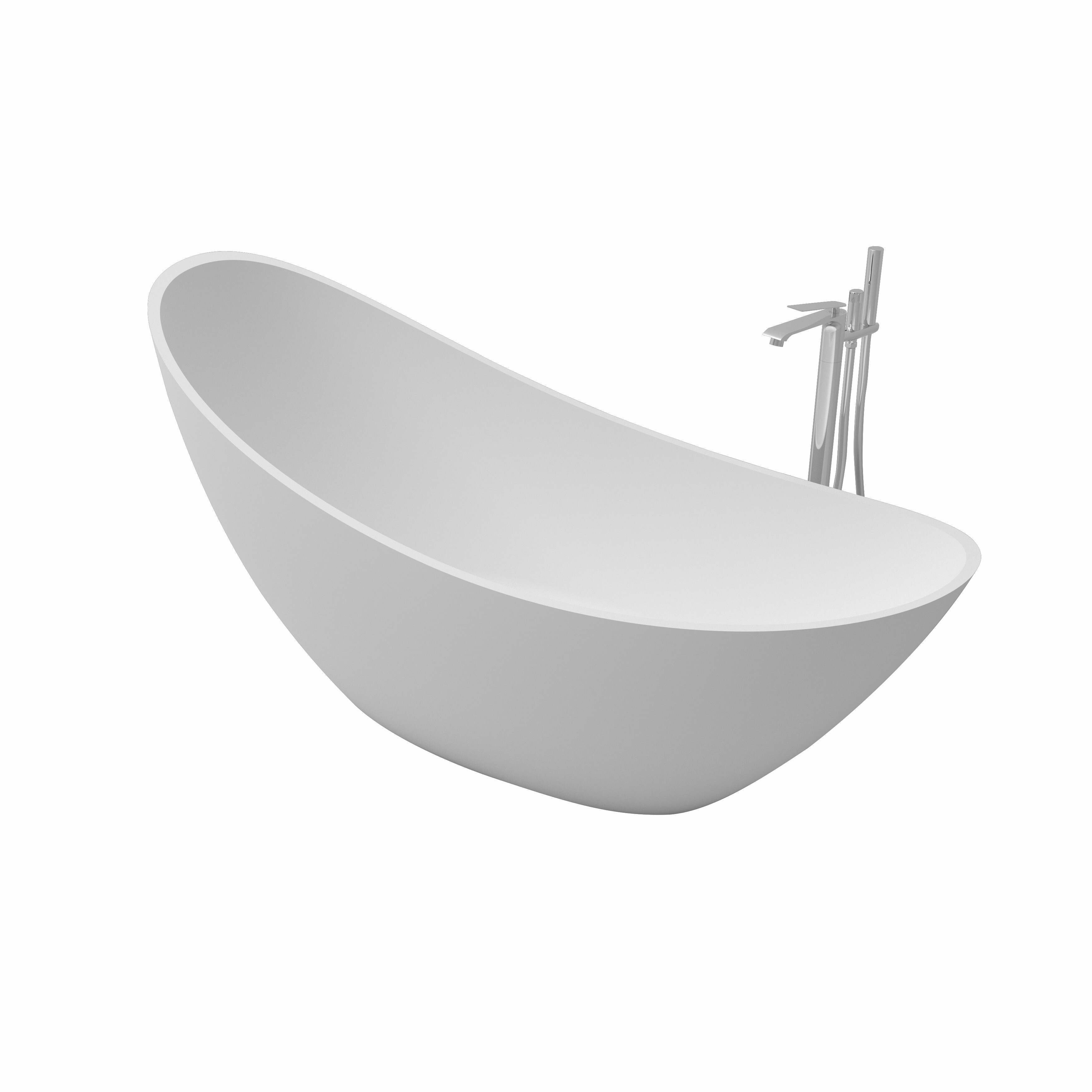 Product Description
Enjoy the clean and seamless design of our Italian designed solid surface composite stone resin freestanding bathtub. This free-standing bathtub is made of white gloss finish, and its interior space is spacious, providing excellent comfort and functionality. This Italian designed solid composite stone resin free-standing bathtub brings a convenient and luxurious bathing experience to your home. This beautiful and modern bathtub is equipped with a raised central acrylic column bathtub and an elegant round acrylic faucet, designed to seamlessly integrate into the modern bathroom. The high-quality materials used to make this product are fashionable, durable and easy to clean. It is an ideal choice for your home.
1) A comfortable paradise
Enjoy a refreshing spa bath in your own home with this Italian designed freestanding bathtub and solid surface composite stone resin. Free from the shackles of gravity, this bathtub is an ideal place to relax after a hard day's work. Refresh your bathroom with this freestanding bathtub. The bathtub adopts solid surface composite stone resin, which is durable and easy to clean. The luxury interior adopts texture design, which keeps the water level and increases the fun. Its white surface adds subtle elegance to its modern design.
2) Our elegant Italian design solid surface composite stone resin independent bathtub will surely bring modern luxury and elegance to any bathroom space. It has a comprehensive texture treatment, and the clean and classic lines add a delicate feeling to your decoration. This Italian designed freestanding bathtub uses solid surface composite stone resin, which is the spa for any family. With its unique oval shape and modern appearance, it can become a central decoration suitable for any bathroom. This bathtub is made of solid surface composite stone resin, and after manual polishing, the appearance is smooth and glossy.
3) Use this charming Italian design solid surface composite stone resin bathtub to create a suitable atmosphere for your bathroom. This is the perfect choice for your residential or commercial bathroom. This bathtub is designed to enhance the appearance of your home and is an ideal complement to any modern bathroom decoration. The simple lines and high-end appearance of this bathtub make it look more expensive than it really is, because its design is simple and elegant, and can complement any modern bathroom theme. This freestanding bathtub is made of the most advanced design and production technology. Its hand-made solid surface composite stone resin structure makes it a durable and low maintenance product in your home.
ABOUT JIASHENG
JiaSheng is a well regarded and experienced import &export company headquartered in Foshan, China.
We have been established since 2009 and is also a member of the Foshan Chamber of Commerce for Importers and Exporters Council.
We are staffed with a team of professional buyers & QA personnel with extensive experience in product sourcing, import and export service and technical knowledge in quality inspection.
Through our vast network of suppliers across the China market, we provide our clients with a wide choice of premium value and high quality products to meet their requirements.