Product Display of custom made ceramic floor tiles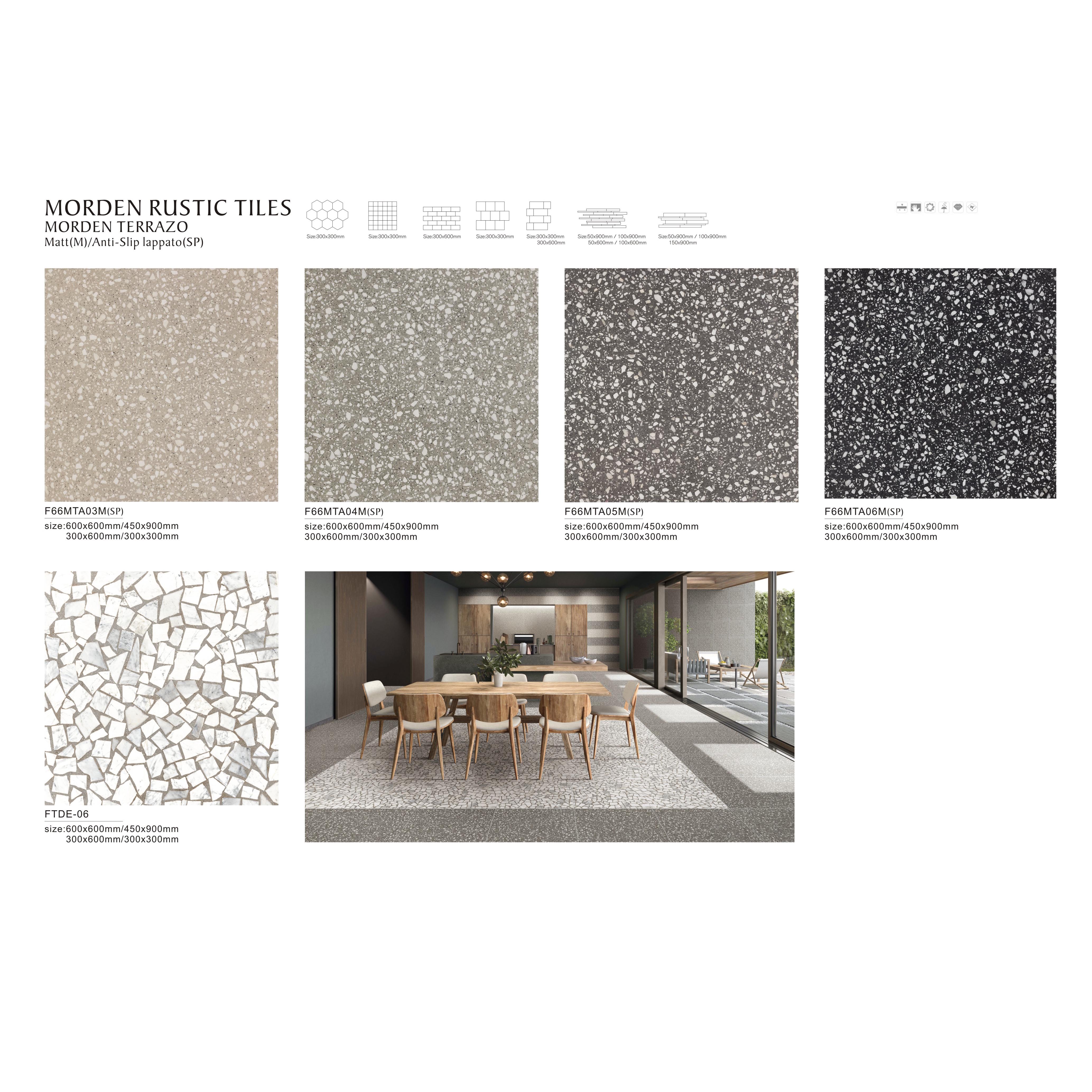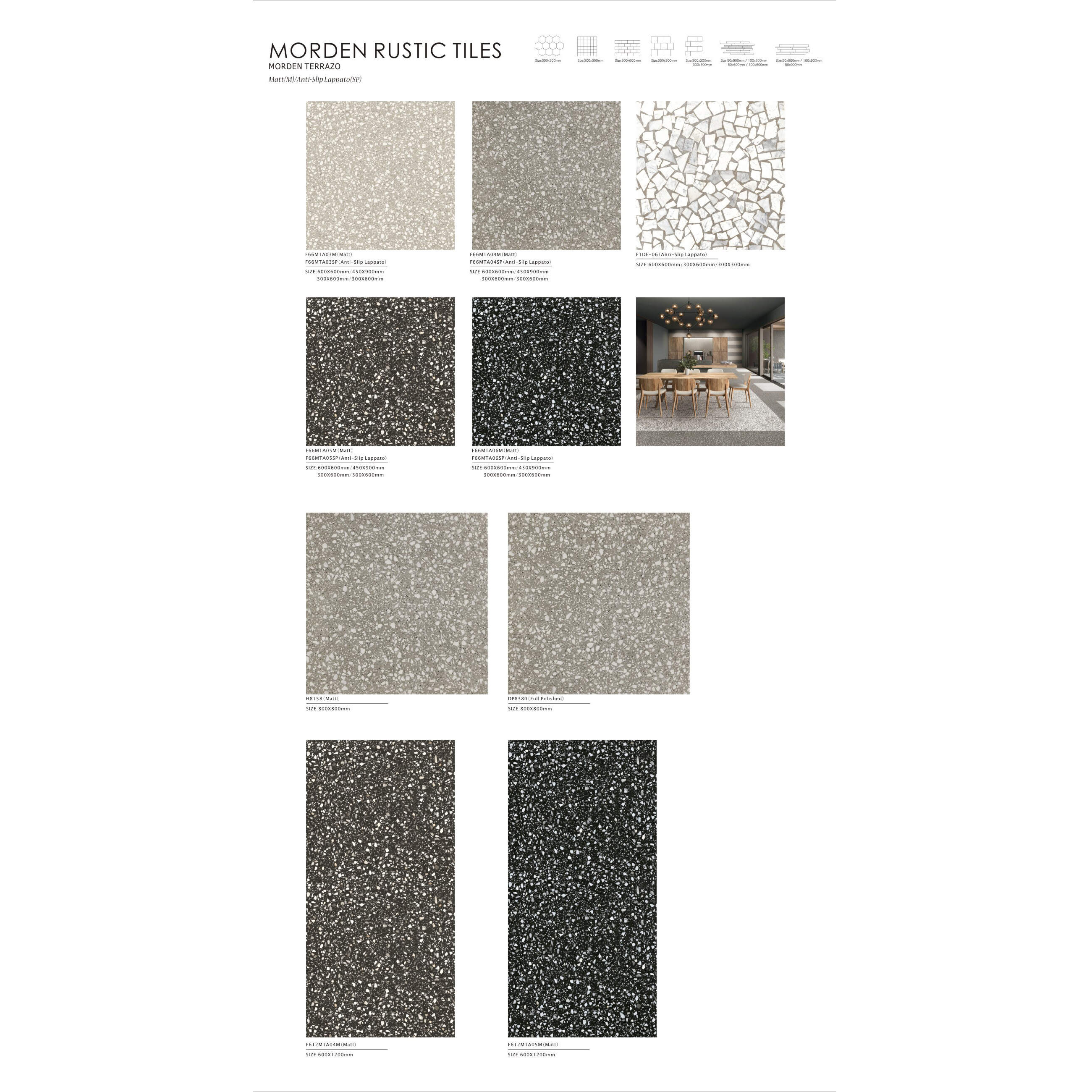 Product Description of rustic floor tiles
What is terrazzo tile?
Traditional terrazzo is a building material made by mixing glass, quartz stone and other raw materials into cement. In terms of materials and craftsmanship, it is divided into pouring terrazzo floor and plate terrazzo floor. It is widely used in construction because of its high wear resistance, no dust accumulation, diverse material color matching, and strong decorative properties.
Features of terrazzo tile
Artificial stone has both the natural texture and solid texture of marble, and the smoothness and delicacy of ceramics, as well as ease of processing and richness of patterns. As a renewable material, endless creativity can be exerted in a limited space.
The characteristics of terrazzo material are outstanding in all aspects, such as: non-toxic, non-radioactive, flame retardant, non-stick oil, non-permeable, anti-bacterial and mildew-proof, wear-resistant, impact-resistant, easy to maintain, seamless splicing, versatile and so on.
Its characteristics are embodied in the following five points:
Rich colors and patterns. Solid colors, such as white, yellow, black, red, etc. There are also colors such as hemp color that highlight the texture, that is, adding different colors and particles of different sizes based on the solid color board.
The material of terrazzo has been screened, and it does not contain radioactive substances and no radioactive pollution. It is very safe to use.
Terrazzo has moderate hardness and toughness, and its impact resistance is better than that of natural stone.
Convenient processing and production: Terrazzo can be processed like hardwood. All woodworking tools and mechanical equipment can be used for the production and processing of artificial stone. Special glue can be used, and various countertops can be ground and polished after bonding. . It can also be processed into various shapes, which are unmatched by natural stone, which is also a big move to beat other materials.
The structure is compact and clean. Artificial stone has a dense structure, no micropores, liquid substances cannot penetrate, and bacteria cannot grow in it, so it is reasonable for some businesses to call artificial stone "antibacterial stone".
Classifications of terrazzo tile
Terrazzo is divided into on-site pouring terrazzo and prefabricated terrazzo floor according to the construction and production process.
Water-in-place terrazzo
Pure terrazzo must be poured on site, commonly known as in-situ terrazzo. Simply put, it is to mix natural crushed stone, glass, even some precious gems, jade seeds and other aggregates and pigments into cement, and then polish and polish after setting. The formed cement products need on-site construction, can be arbitrarily parquet, can be dyed into various colors using pigments, and use glass or copper strips as partitions, with good decorative effects.
Prefab Terrazzo
The prefabricated terrazzo is uniformly produced by the production machine in the factory production line. The prefabricated terrazzo slabs can be directly paved when needed. The gloss is higher than that of the terrazzo constructed on site, but the decorativeness is not as good as that of the terrazzo constructed on site. Due to the need to use cement joints for on-site paving, the joints will turn black after a long time, which is easy to hide dirt and dirt, and often smells of terrazzo.
Today, commercial terrazzo is the most common.
Commercial terrazzo floors are used on the floors of shopping malls, shopping centers, office buildings and other commercial areas. They require beautiful, high-grade, dust-free, wear-resistant, and easy to clean. The effect is the same as that of marble, but the cost is no more than one-third of that of marble.