Product Display of ODM Marble Stone Mosaic Tile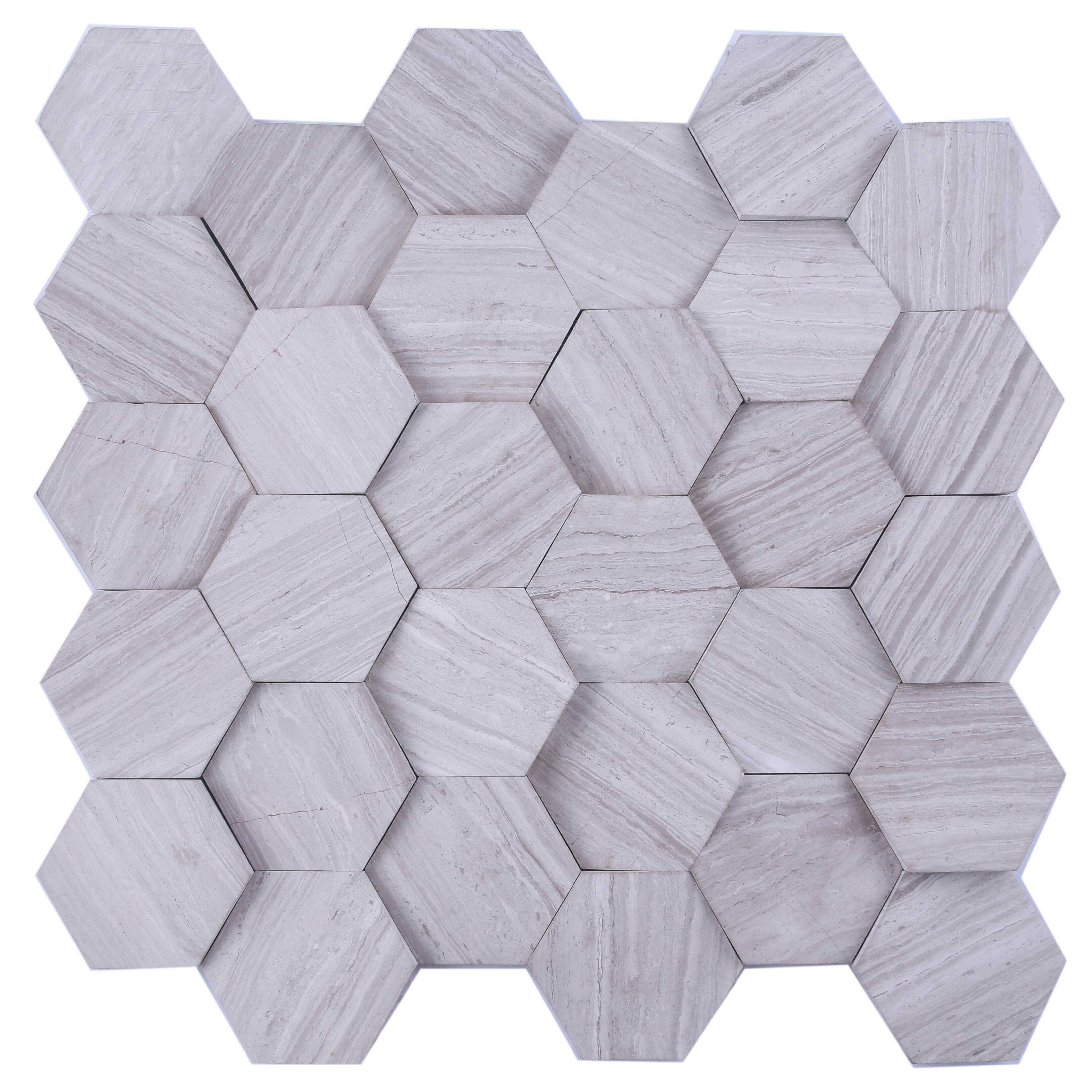 Product Description of stone mosaic tile
Marble mosaic is made of the natural stone through special process, with theout adding any chemical dye. The marble mosaic well preserves the unique primitive color of the stone itself. This natural marble mosaic makes people put themselves in the space constructed by the simple color and excellent natural texture, and naturally forget the ostentation and noise in the reality, and taste the truth and simplicity in the space that blurs the time.
3 points of application of marble mosaic art decoration
Material: natural marble is a good material for making mosaics
Mosaic originated from Greek, which means "art work that is worth meditation and needs patience". As a mosaic art, mosaic was first found to be used in architectural decoration because of its small particles, flexible color matching, and easier to arrange patterns; As a traditional and powerful means of decoration, mosaic has become a very expressive art form in modern decoration.
Stone mosaic is a noble and elegant art, which integrates scarcity, environmental protection, personalization and safety. It has the advantages of strong decoration and long service life. The stone materials for making mosaics include natural marble, cave stone, slate, quartz, volcanic rock, cobblestone, etc., of which natural marble plays a major role. In particular, natural marble is basically used as the material for puzzle mosaics.
Market: the market response of marble mosaic is very good
Natural marble has a long history of use, luxury and precious materials, the most diverse varieties, rich colors and strong expressiveness. In particular, different natural textures and color differences can enhance the decoration and produce gradual effects, which provides favorable conditions for design and is easy to make in shape, specification and splicing pattern.
Natural marble is used to make mosaics. Its patterns are exquisite and exquisite, full of creativity, more versatile and more vitality. It is suitable for a variety of styles and atmosphere design. In addition, the marble material is green and environmentally friendly, with good acid and alkali resistance and strong waterproof performance. The market response of marble mosaics is very good: it has become a good choice for architectural decoration and is widely used in hotels, hotels, bars, stations, swimming pools Decoration of entertainment places, indoor hall wall and ground paving, and art mosaic production.
Process: Marble creative mosaic + marble plate
Marble mosaic is made of natural marble through special process. It can be divided into basic monochrome / mixed color mosaic, basic geometric mosaic and creative mosaic. In particular, creative mosaic is an excellent way to use color changes.
Marble mosaic is mainly used for wall and ground decoration. It can be used to pave the whole wall or part of the wall for decoration. It is also suitable for paving the ground. For example, the classic styles include black-and-white woven shapes and hexagons. One of the more advanced paving methods is "mixing marble mosaic and marble plate". Its visual effect is better than that of pure mosaic or pure plate. It can also be used to distinguish marble mosaic from marble plate, In this way, it can not only create the feeling of laying a layer of carpet visually, but also maintain the overall design of the space and ingeniously achieve functional zoning.