Product Display of Natural Stone Mosaic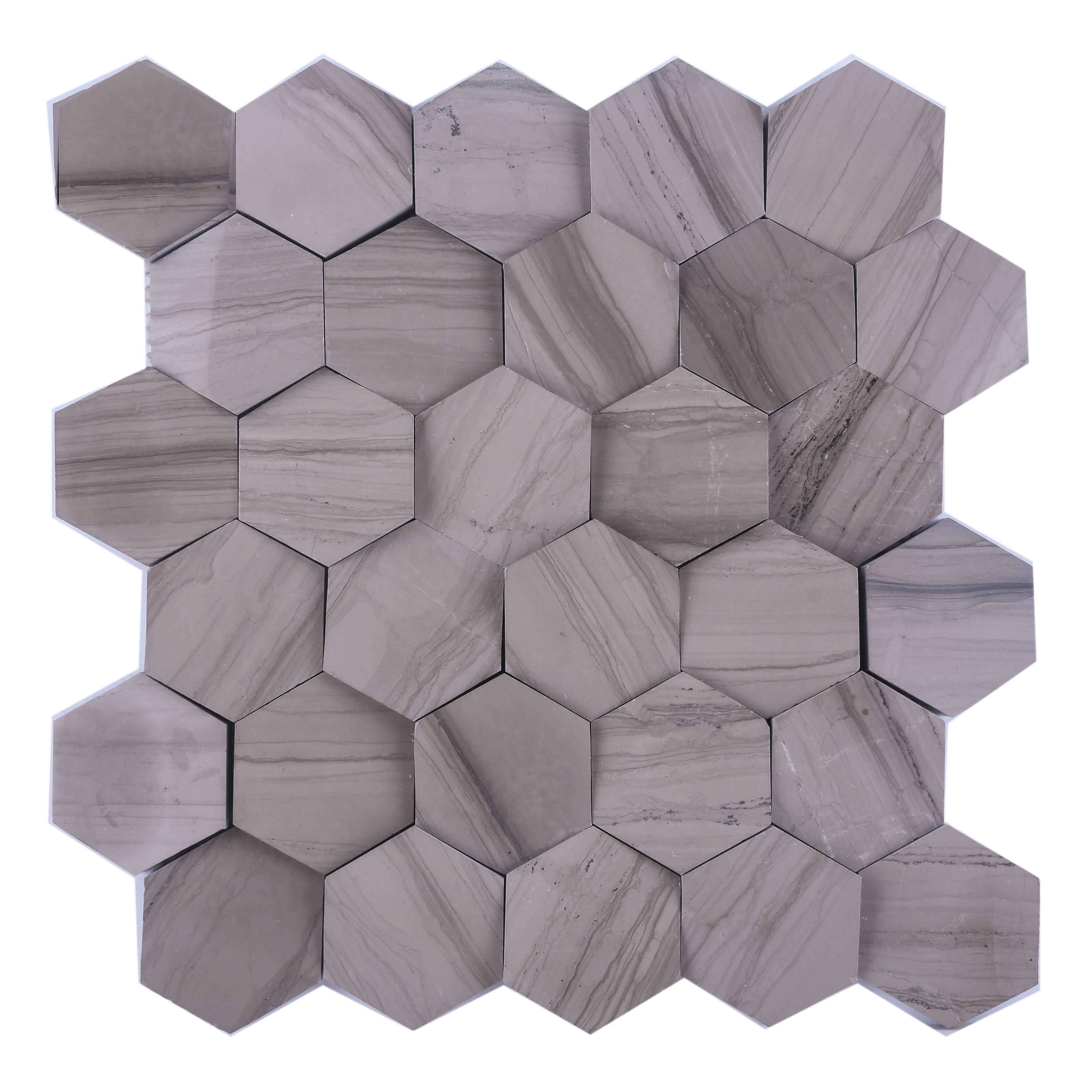 Product Description of Natural Stone Mosaic
Mosaic products have a long and brilliant history. Although they have gone through thousands of years, their charm is still there, and their charm depends on each other. They are still popular among the public. They are important products for hotels and family decoration.
Stone mosaic products, with their unique decorative style, are both romantic and elegant and are warm and delicate stone products.
Classification of stone mosaic
There are natural marble, cave stone, slate, quartz, volcanic rock, pebbles, and so on.
Due to its rich colors, luxurious and valuable materials, strong expressiveness, and long history of use, marble occupies the main position of stone mosaic, especially the puzzle mosaic. The materials are marble. In terms of form, there are basic monochrome / mixed color mosaic, basic geometric mosaic, and creative mosaic.
General and special mosaic sizes
The size of each piece of export standardized mosaic is:
305MM*305MM;
In China, generally:
300MM*300MM;
The particle size of conventional mosaic is divided into:
10MM*10MM;
15MM*15MM;
23MM*23MM;
48MM*48MM;
75MM*75MM;
98MM*98MM
The thickness is usually 10 mm.
There are also custom mosaics of special sizes and extremely fine mosaics for art.
Application area of stone mosaic
The scope of use of stone mosaic is not limited. It can be used on walls, floors, columns, and stairs, indoors, and outdoor.
Home decoration: kitchen, toilet, living room, dining room, walkway, and other areas.
Tooling: hotel lobby, clubhouse, bath, KTV, and so on.
Maintenance method of stone mosaic
Avoid direct sunlight as much as possible within 3 days, so as not to affect the intensity due to rapid water loss. It is recommended to spray water for curing the joint filling materials every day within a week, and try not to press or hit the installation surface or move the position within 7 days.
Surface protection and moistening effect: after all the above works are completed and dried, to ensure easy cleaning and maintenance in daily use in the future, it is recommended to use imported stone permeable curing liquid to conduct post-treatment on the paved mosaic floor or wall surface, to achieve the effect of moistening stone, waterproof and antifouling.
Three laying methods of stone mosaic
There are three methods for laying stone mosaic patterns:
One is the method of gluing and splicing patterns on the whole plate, also known as the direct assembly method.
In addition, there are two methods of laying rough stone mosaic patterns:
One is the back paper method, which is similar to glass mosaic. First, paste the assembled pattern onto the kraft paper net, and then directly adhere it to the installation surface with concrete. After curing, remove the paper net;
The other is the bracket method, which can make some ABS plastic brackets according to the design pattern in advance. Each rough surface stone corresponds to a bracket. The bracket is fixed on the mounting surface with screws, and then the stone is glued to the bracket with adhesive. It can also form various beautiful and antique stone mosaic effects, which is very convenient for construction.
The back paper method is easy to install. Since the mosaic pattern has been designed in advance during the production of stone manufacturers, the composition of the picture is single and rigid, and artistic creativity is lost. However, it is very suitable for the standardized and mass production mode of the factory. Although the installation of the bracket method is complicated, it can be made by the installer according to the patterns and shapes designed in advance, leaving a large space for the installer to imagine.