Product Display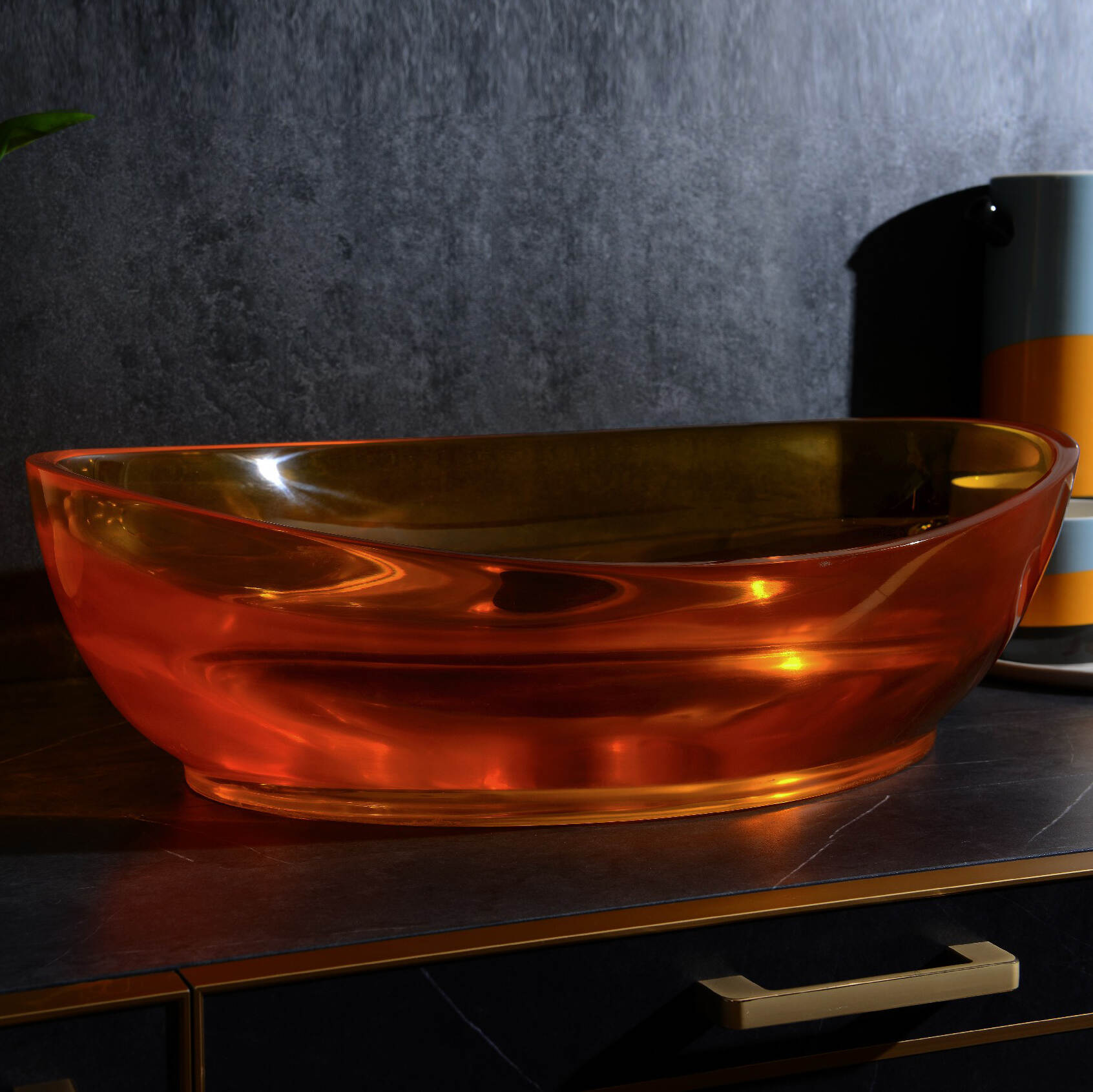 Product Description
This glass sink is a lovely addition to any modern bathroom, providing fashionable colors and complementing other elements of the room. The glass basin is handmade and the edge is polished, adding a little charm. It is mounted on a wall or table. It has an integrated soap box and drainage device, so you can install it immediately. Glass, free of lead and nickel, durable and tasteless. All colors are made of high-quality crystal glass, non-toxic, waterproof and easy to clean. As a glassware sink, the water absorption performance is very good. If it is damaged, it will not directly cause damage to the user due to damage or explosion.
1) Characteristics
Crystal basin transparent glass container sink top amber and color cabinet art sink material: no allergic raw materials, high-quality materials, high-quality heavy-duty solid crystal, acid resistant, protein resistant, bleach resistant, mold resistant, waterproof, durable and solid surface, smooth touch, easy to clean; Modern bathroom sink countertop crystal basin transparent glass container sink countertop amber colorful art sink cabinet, abstract colorful hollow body, transparent crystal transparent glass, modern simple design. A beautiful design pays attention to your bathroom. Add modernity to your bathroom. Excellent design, comfortable appearance, easy to clean. Bright colors make you feel fresh and relaxed. The creativity and unique use of the sink make it a perfect decoration for the bathroom. This sink is great because it has a small faucet that can be used with both hands. It has the appearance of glass and the strength of steel!
2) The bathroom crystal sink in our glass sink series is designed to coordinate with our other containers and countertop sinks. This special double water tank achieves a perfect balance between function, style and quality. It has a pop-up drain, a matching bowl filter and a faucet. Its smooth interior is easy to clean. You can use it as a stand-alone sink, or you can integrate it as part of a dresser or table / countertop combination.
3) This is a high-quality bathroom sink made of transparent tempered glass. It has a shiny surface that can make your toilet look elegant, practical and durable. Easy to clean with hot water and soap or any professional cleaner specially used for glass surface. The water tank will not be scratched, broken or peeled off in use. Amber and colored art glass sink bowl bathroom container countertop container sink. The glass basin uses high-quality raw materials to ensure that the sink is durable and can withstand many years of use. The colorful art glassware sink is simple and luxurious, suitable not only for your bathroom but also for your kitchen.
ABOUT JIASHENG
JiaSheng is a well regarded and experienced import &export company headquartered in Foshan, China.
We have been established since 2009 and is also a member of the Foshan Chamber of Commerce for Importers and Exporters Council.
We are staffed with a team of professional buyers & QA personnel with extensive experience in product sourcing, import and export service and technical knowledge in quality inspection.
Through our vast network of suppliers across the China market, we provide our clients with a wide choice of premium value and high quality products to meet their requirements.