Product Display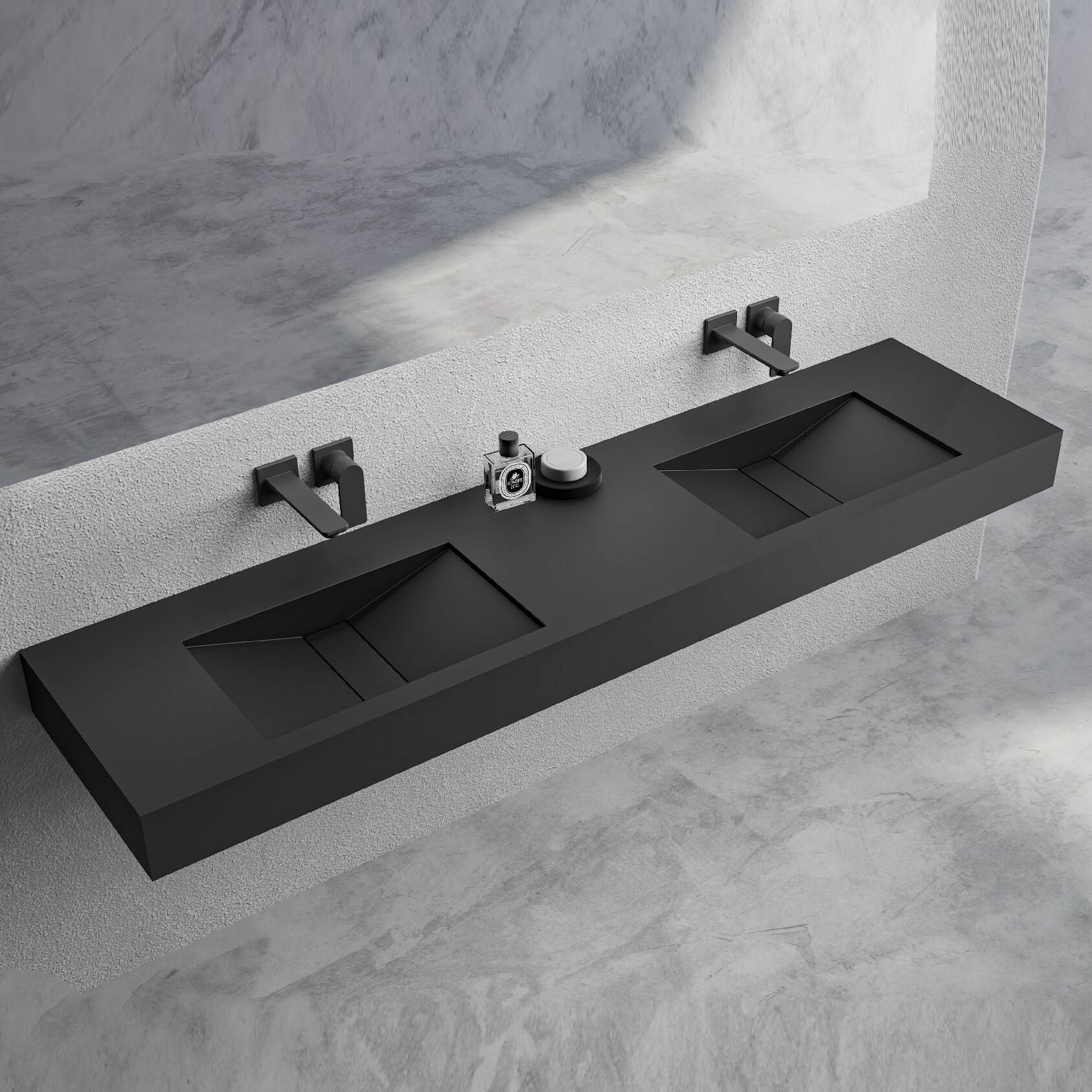 Product Description
This marble stone basin double groove bathroom sink artificial stone hotel sink double groove long single groove, also known as long single groove, the surface is glazed. Glaze can be any color you like, or you can have it. You can install it in the bathroom, bathroom and other parts of your home. It is an excellent choice for hotels, restaurants and other public places to meet the needs of luxury design style. Save space with this beautiful sink. This elegant sink is perfect for the bathroom and / or bedroom, both practical and beautiful. The top is made of natural marble, which enhances its luxurious appearance. The bottom is made of high-quality artificial stone, which is easy to clean and maintain.
1) Easy to place
This marble basin Double Sink Bathroom Sink artificial stone hotel sink is made of high-quality and durable materials and can be used for a long time. This is a beautiful and practical bathroom for every family. The dual design allows you to easily put it in any corner of the home.
2) Material
This sink is made of artificial stone and is the perfect choice for your bathroom. It is also very suitable for your hotel, motel, office, restaurant and any place you want to go. Replacing an outdated bathroom sink or kitchen cabinet with a modern look is a cost-effective way. The whole set of marble and design style is fashionable. They look elegant, noble and shiny enough to impress guests who visit your bathroom or kitchen. This product is made of artificial stone, also known as artificial marble. It is made with advanced computer engraving machine and modern technology, which is no different from the natural stone carved by the machine. Just like a mother's feelings for her children, there is a difference between nature and skill.
3) Applicable scenario:
This is a beautiful, high quality and elegant artificial stone bathroom sink. Artificial marble modern bathroom sink is made of high-quality materials, durable and easy to clean. It adds a unique look to your bathroom and makes it beautiful. Double single washbasin is the perfect accessory for your family or office, hotel, hospital, kindergarten and other facilities. The double bath tub is a large shower room for two people, which is stored in the bathroom, and used for wedding water supply and drainage. Double sink baths are usually used for large families or couples living together, hoping to save space. This concept is promoted by hotels or host families.
ABOUT JIASHENG
JiaSheng is a well regarded and experienced import &export company headquartered in Foshan, China.
We have been established since 2009 and is also a member of the Foshan Chamber of Commerce for Importers and Exporters Council.
We are staffed with a team of professional buyers & QA personnel with extensive experience in product sourcing, import and export service and technical knowledge in quality inspection.
Through our vast network of suppliers across the China market, we provide our clients with a wide choice of premium value and high quality products to meet their requirements.