Product Display of Colored Freestanding Bathtubs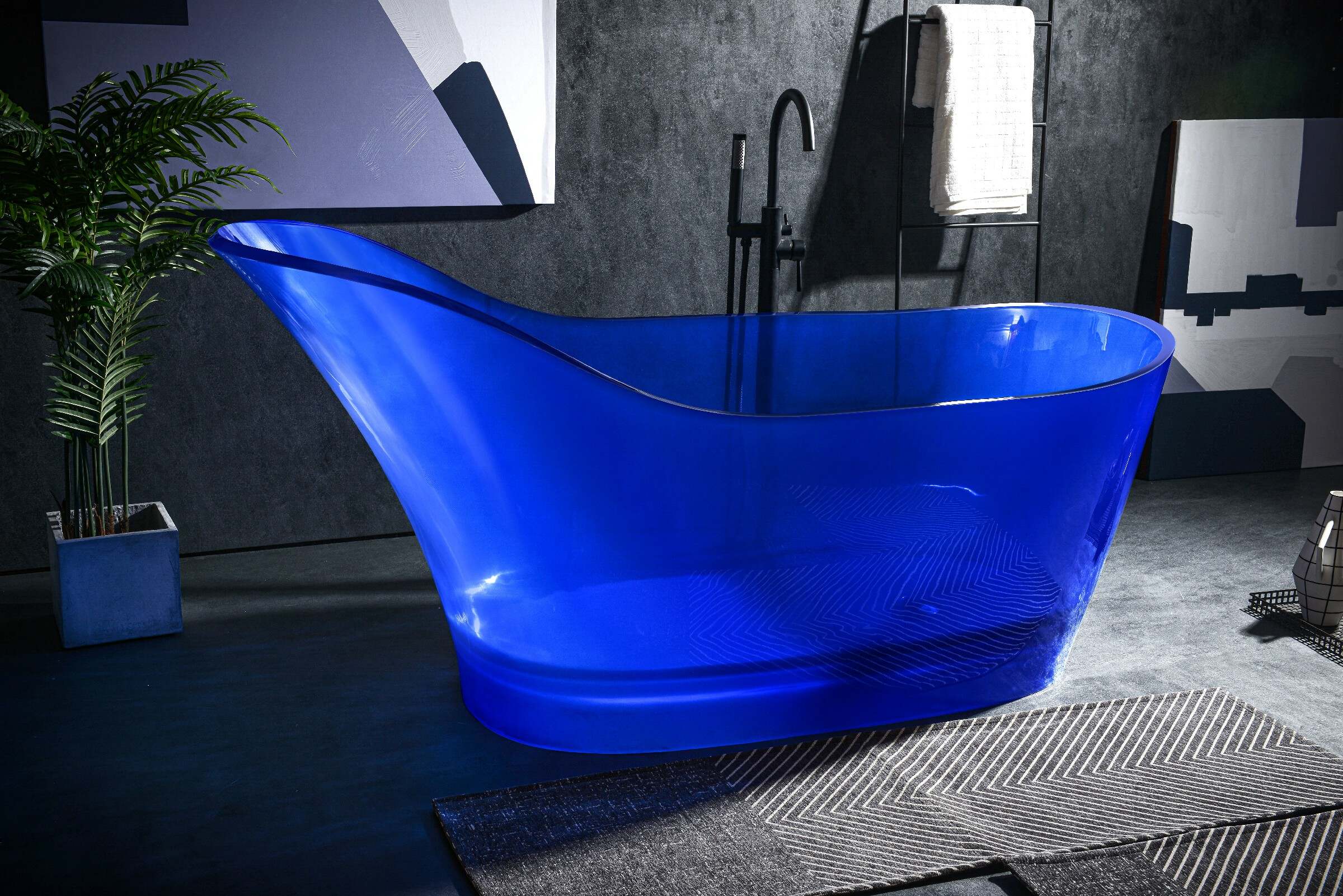 Product Description of colored freestanding bathtubs
Are you tired of the boring old-fashioned bathtub? Then try this modern pure transparent bathtub with crystal clear surface. This is a beautiful supplement to your bathroom and a luxurious fashion statement. Very strong and durable. The material used to make the bathtub is tough resin. Because it is transparent, you can see what happens when you take a bath or soak in this hot tub. This bathtub can be fixed anywhere in the house in a few minutes, because its attached legs allow you to erect it anywhere you choose. The newly launched colorful transparent independent immersion hot tub and crystal clear pure resin bathtub are designed to give you the most comfortable and beautiful bathing experience. After a hard day, you can take a hot bath inside to refresh yourself. It can also be an excellent complement to any bathroom environment - whether it is a stand-alone environment or as part of a larger bathroom area.
1) Appearance
Interesting, colorful, beautiful, practical and durable. All these are the features of our latest transparent bathtub. Easy to clean, made of medical resin, so it is easy to block bacteria.
2) The latest color transparent independent bathtub is suitable for home decoration, interior design and holiday tourism. It has a convenient portable design and can be installed anywhere in the bathroom. Perfect match with other glass materials to create a beautiful home environment.
3) Easy to install
The latest color transparent independent soaking hot tub crystal transparent bathtub bathroom pure resin bathtub these bathtubs are designed with the most advanced technology to ensure their durability and quality, high temperature resistance and easy installation. This bathroom tub can be placed on the floor or under the roof, so as to avoid damage caused by frost.
4) Material
If you are looking for a space saving product, this product is right for you. It is made of durable and easy to clean polycarbonate resin, so it is completely maintenance free. The transparent panel allows natural light to be filtered through the bathtub area and plants are planted in your own home.
5) This stunning and beautiful transparent independent immersion hot tub crystal transparent bathtub uses amazing technology to quickly bring the feeling of spa home and enjoy it in your own bathroom. The latest and most advanced design hot tub provides the benefits of treatment and relaxation for your body, helping you achieve comprehensive physical and mental recovery. The hot tub will give you a really cool and warm feeling. It can accommodate up to 6 people and is easy to install, disassemble and transport. The bathtub can be used as a relaxing bathtub for barbecue in the garden or in cold winter.
ABOUT JIASHENG
JiaSheng is a well regarded and experienced import &export company headquartered in Foshan, China.
We have been established since 2009 and is also a member of the Foshan Chamber of Commerce for Importers and Exporters Council.
We are staffed with a team of professional buyers & QA personnel with extensive experience in product sourcing, import and export service and technical knowledge in quality inspection.
Through our vast network of suppliers across the China market, we provide our clients with a wide choice of premium value and high quality products to meet their requirements.