Product Display of Custom Made Acrylic Bathtub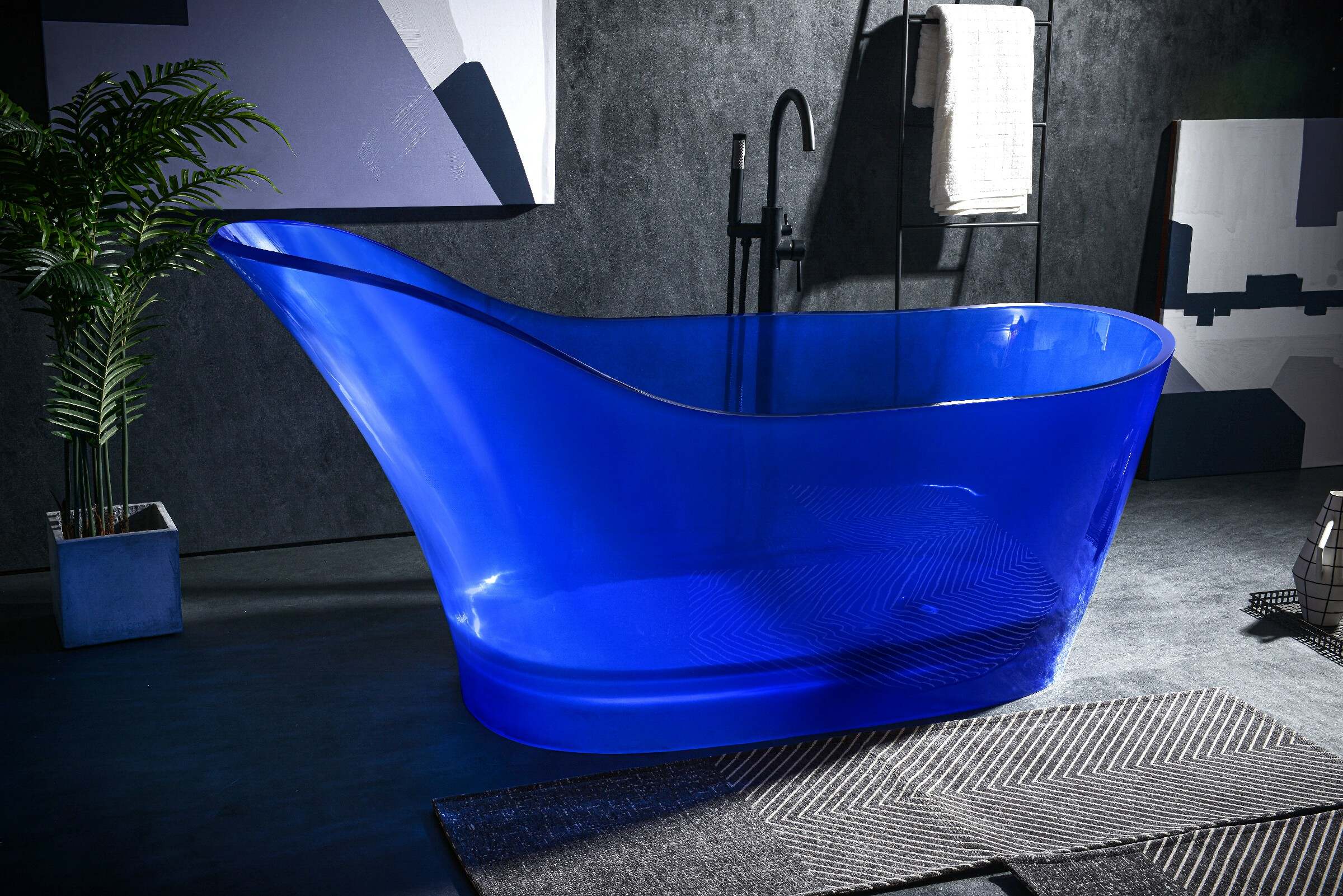 Product Description of custom made acrylic bathtub
This eye-catching colorful rainbow bathtub and transparent acrylic colorful bathtub are the best choice for your bathroom. It is of high quality and durable color. When you are tired of a long day and need to take a hot bath to relax, this is the perfect bathing environment. With this colorful bathtub series, you can release all the pressure, and its rainbow color makes your room shine. It is made of acrylic material, which is very durable and easy to clean and maintain. The beautiful rainbow design will surely attract the attention of everyone who sees it.
1) Appearance
This striking colored bathtub adds a unique and exciting element to your home. Rainbow bathtub makes your bathing time a special experience. This bathtub is made of high-quality acrylic, which can guarantee the lasting performance of your new bathtub and provide a charming appearance for your bathroom. Our rainbow bathtub is colorful, amazing and wonderful, and will definitely become the topic of any bath time. Colorful patterns and gorgeous colors add just the right vitality to your bathroom, while the solid plastic structure makes this bathtub very durable.
2) Strong cleaning ability.
Use color clear's colorful bathtub to enhance the beauty of the bathroom. These bathtubs are made of acrylic, which is durable and beautiful. In addition to providing a luxurious bathing experience, this bathtub is also designed to prevent mold and mold growth from damaging the surface and decoration of the bathroom. If you want to add a little fun to the bathroom, rainbow colors will come in handy!
3) Characteristics
This color bathtub is made of high-quality acrylic material, suitable for adults and children. A variety of colors can be selected to meet your needs. It is absolutely an excellent decoration for home life. It will not fade even in daily use. This product has good corrosion resistance and durability. There may be some deviation due to different light shooting angles or other factors; It can even encourage the independence of older children. Whether you want to add luster to the dull and dirty bathtub or create something more interesting than white or pink, our colorful acrylic bathtub is perfect for any bathroom or game room.
4) Turn your bathroom into a personal refuge with this eye-catching rainbow bathtub. It is comfortable, practical and easy to clean. This is what you need to relax after a day of work or study. The transparent acrylic bathtub will not fade or change color even if it is washed with hot water or bleach.
ABOUT JIASHENG
JiaSheng is a well regarded and experienced import &export company headquartered in Foshan, China.
We have been established since 2009 and is also a member of the Foshan Chamber of Commerce for Importers and Exporters Council.
We are staffed with a team of professional buyers & QA personnel with extensive experience in product sourcing, import and export service and technical knowledge in quality inspection.
Through our vast network of suppliers across the China market, we provide our clients with a wide choice of premium value and high quality products to meet their requirements.