Product Display of Custom Made Porcelain Ceramic Pool Tiles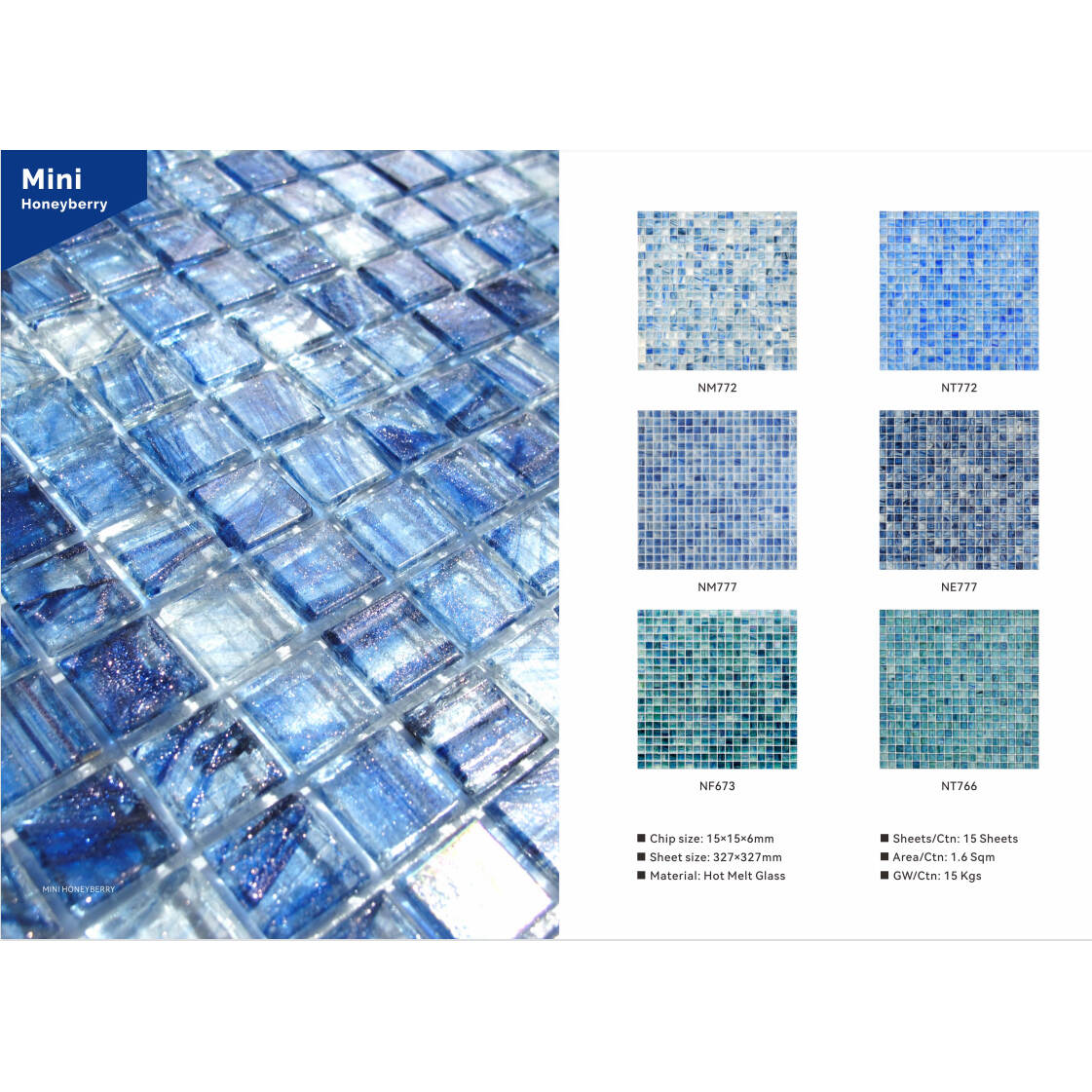 Product Description
10 general knowledge of maintenance and care of glass mosaic
Glass mosaic is also called glass brocade brick or glass paper brick. It is a kind of small-sized colored decorative glass. The general specification is 20mm × 20mm, 30mm × 30mm, and 40mm × 40 mm. The thickness is 4-6 mm. It belongs to small glass mosaic materials of various colors. Next, we'll talk about 10 maintenance methods of glass mosaic.
1.When the shell mosaic is pasted and installed, it can be pasted like other types of mosaics (such as glass, stone, etc.). Paste it with a mixture of white cement and glue, or directly use ceramic adhesive, and then wipe it clean.
2.Ensure sufficient drying time, generally 24 hours. After the mosaics are fully bonded, fill the gaps with appropriate joint sealant and trowel.
3.Natural marble has various textures and strong decorative effects. The colors and varieties are extremely rich, and different colors can be organically combined into different styles of patterns. It is also widely used, such as in the hotel lobby, aisles, bathrooms, etc.
4.Mosaics can be divided into three types in terms of material: ceramic mosaics: the rough surface can be retained without any modification. If glazed and fired, a smooth surface will be formed. The general ceramic mosaic has the characteristics of being waterproof, moisture-proof, wear-resistant, and easy to clean, but its plasticity is not strong, and it is mostly used for external walls and kitchens, and bathrooms.
5.The water absorption rate is low, which is the key factor to ensure the durability of the mosaic. Therefore, the water absorption rate should be tested. When water is dropped on the back of the mosaic, the quality of water dripping is good, and the quality of water dripping is poor.
6.When purchasing, pay attention to whether the particles are of the same specification and size. Is the edge of each small particle neat? Place the single mosaic on the horizontal ground to check whether it is flat. Whether there is too thick latex layer on the back of a single mosaic.
7.Glass mosaic is a safe building material. It is made of natural minerals and glass. It is an excellent environmental protection material with lightweight, acid resistance, alkali resistance, and chemical corrosion resistance. Glass mosaic has two basic characteristics: one is transparency and the other is reflection. Its color is very bright, and the graphic effect is better. Its dreamy color gives people clean and clear enjoyment. It can be widely used in bathrooms and swimming pools, but it is not wear-resistant and rarely used on the general ground.
8.Anti-slip, wear-resistant, water-resistant, extremely strong plasticity and rich colors make the mosaic have an indissoluble bond with the bathroom since its birth. Its strong personality color gives many people a choice when decorating the bathroom.
9.For glass mosaics decorated with stripes, the distribution area of ornaments shall account for more than 20% of the total area and be evenly distributed.
10.The adhesive used shall not only ensure the adhesive strength but also be easy to wipe off from the glass mosaic. The adhesive used shall not damage the backing paper or discolor the glass mosaic.