Product Display of Grey Outdoor Floor Porcelain Tiles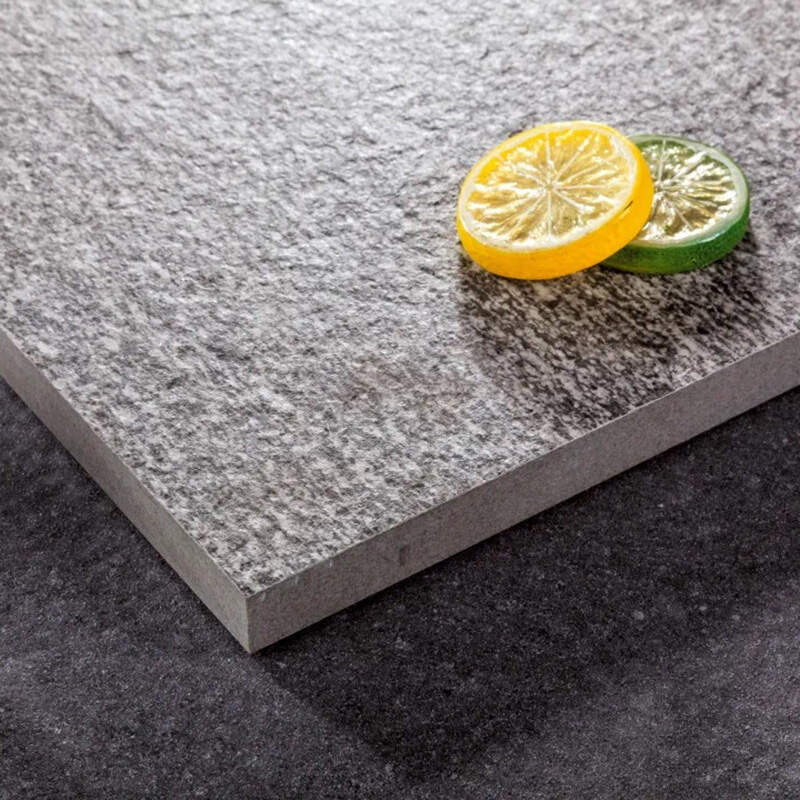 Product Description of outdoor porcelain tiles
What kind of porcelain floor tiles are better fgrey floor tilesor outdoor gardens?
Ceramic tile
Tile is a particularly dense and strong form of ceramic, and most tiles used for floors can also be used in many patio applications. Your best bet is a textured matte tile that doesn't have a high-gloss finish that can be slippery when wet. Most tiles are thick enough to be used on the floor.
Cement floor tiles
Although the flatness of this kind of floor tile is not higher than other floor tiles, and the surface texture is relatively rough and the color is relatively poor, it is often used for outdoor decoration, but this kind of outdoor floor tile is easy to hide dust. Therefore, cement floor tiles are often used for square and lawn decoration.
Lawn tiles
Lawn tiles can be prefabricated in various specifications and colors according to needs, matched with various patterns, and assembled into different patterns, which are more beautiful than cement floors, and can reduce the glare caused by ground reflection, reduce the reflection of floor radiation, and reduce transmission from the ground floor. of heat. Lawn bricks are widely used in urban road reconstruction, park construction, community greening, etc.
Shingles
Wood has been used as an option for outdoor flooring for decades, and while you can't just use any type of wood, it's a versatile material.
Rosewood and cedar are naturally resistant to weathering and will last longer than treated wood, hickory or oak. For outdoor activities, consider wood deck boards or wood floor tiles, both of which look great.
Wood grain tiles
The elegant color and natural texture of wood grain tiles blend into infinite tranquility and harmony. They are laid on the outdoor terrace floor, giving you natural and peaceful living space. Imitation wood grain tile is a kind of high-grade ceramic tile with lifelike surface and restored wood grain texture effect. The raw materials are collected from ceramics, no harmful substances are released, and it is safer and more environmentally friendly.
Due to high hardness and better wear resistance, there will be no mildew, drying, deformation and other problems.
Installation Tips about Outdoor Tile
When laying outdoor floor tiles, is definitely more troublesome than indoor construction. The material selection of outdoor floor tiles is mainly waterproof, non-slip, and wear-resistant.
So how do we lay outdoor tile floors?
Before laying outdoor tile floors, the size, appearance quality, color, etc. of the tiles should be checked first.
It can be used after pre-selection, cleaning, putting in clean water, soaking, taking out and drying.
The drying time is generally about half a day, which is subject to the moisture-proof film and dampness on the surface of the brick.
On the cleaned leveling layer, find the ground level, level it with a level ruler, pop up a horizontal line, and pre-allocate the edge position.
When laying external wall and floor tiles, waste bricks should be used as marker blocks first, a marker block should be made horizontally every 1.5 meters, and the flatness should be corrected with pull wires.
Use 1:2.5 cement mortar for paving.
In order to improve the workability of the mortar and facilitate the operation, lime mud not exceeding 15% of the cement content can be added.
The amount of mortar should be after the paste is filled.
After the first row is laid and calibrated, move the cable, and then lay it according to the above method.
When laying, pay attention to keeping it flush with the adjacent roof tiles.
If the specifications and geometric shapes of the roof tiles are not equal, they should be adjusted at any time when laying to make the gap narrow and uniform.
After the installation of field tiles is completed, quality inspection should be carried out, and the surface of field tiles should be scrubbed with clean water.
The joints and crimp joints shall be rubbed and embedded with the same variety, same strength grade and same color grout. Rinse with clean water when finished.